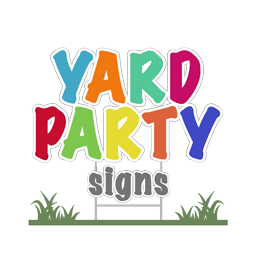 Why Yard Party Signs Are The Best
Because we party yard!
Now Serving Denver, Colorado and Columbus, Ohio!
Let us help you with your special occasion!
Regular
You will be surprised how great this surprise is!
Jumbo
Clever and creative? Yes, please!
Here are some of our favorites:
Happy (Age) Birthday (name)

Happy Sweet 16 (name)

#Keysplease

Honk & Scream (name) is 16

How Fun! (name) is 1

Lordy Lordy! (name) is 40

(Name) is Over the Hill
It's A Boy/Girl! (name) 

(name) Is Here

Welcome Baby (name)

Bump Brunch

Oh Baby! It's a Shower

Congratulations (name and name)

Welcome Home (name)
Happy Valentine's Day

Happy Halloween

Merry Christmas

Happy Hannukah

Happy Easter

Happy Mother's/Father's Day

Happy New Years!
Welcome Back Students!

We missed you!

Kindergarten Round Up (date)

School Fundraiser (date)

(Mascot) Football, Baseball, Basketball

Registration/Donations Here!

Congratulations, Seniors!